IsoMatch Tellus PRO
With its advanced hardware and software features, the IsoMatch Tellus PRO provides the optimal precision farming solution for an all-in-one control system inside your tractor cab.
Be a PRO in saving on inputs, time and costs
Today's farming has evolved from individual craftsmanship to precision agriculture. Driven by advanced technology, precision agriculture will have a huge impact on traditional farming approaches across the world. Modern farmers demand more efficient, easy to operate machines to reach a higher yield. To fulfil these demands, Kverneland Group developed the IsoMatch Tellus PRO Universal terminal.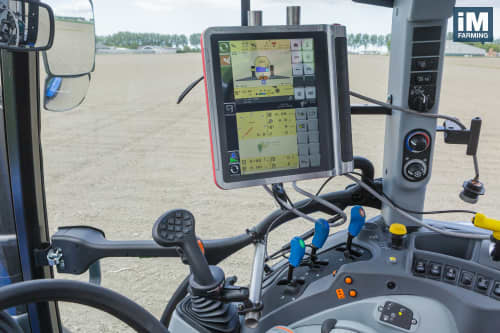 IsoMatch Tellus PRO is the centre for connecting all ISOBUS machines and a platform for running precision farming applications. It offers everything a farmer needs to get the maximum out of his machines and crops, as well as cost savings in fertiliser, chemicals and seeds by using automatic section control and variable rate control. With the unique dual screen functionality it gives the farmer the opportunity to view and control two machines and processes simultaneously. 
Technology changes fast
Time is money and to get the highest productivity, no time can be wasted. That is why fast is the keyword for this new terminal in the IsoMatch range. With state of the art hardware, you experience a fast responding terminal which can handle more demanding applications. With the IsoMatch Tellus PRO you are ready to work with innovative functions, features and apps. One important advantage is the possibility to connect this terminal to IsoMatch FarmCentre, our new telematics solution and smart web application. 
All the way as a PRO
The maximum working range for the task controller is increased to 10 km from the starting point. This leads to extremely big fields being handled in a fully professional way. And with the new high brightness screen, you experience even greater operator comfort. Visibility is increased during the day and dimmed to just a glowing display in dark conditions.
The benefits of using IsoMatch Tellus PRO 
Powerful processor and glossy dual screen
12 inch total screen size
User friendly
All in one control system
Dual screen functionality
Ready for Telematics applications
IsoMatch GEOCONTROL license available
Smart, Efficient, Easy - iM FARMING