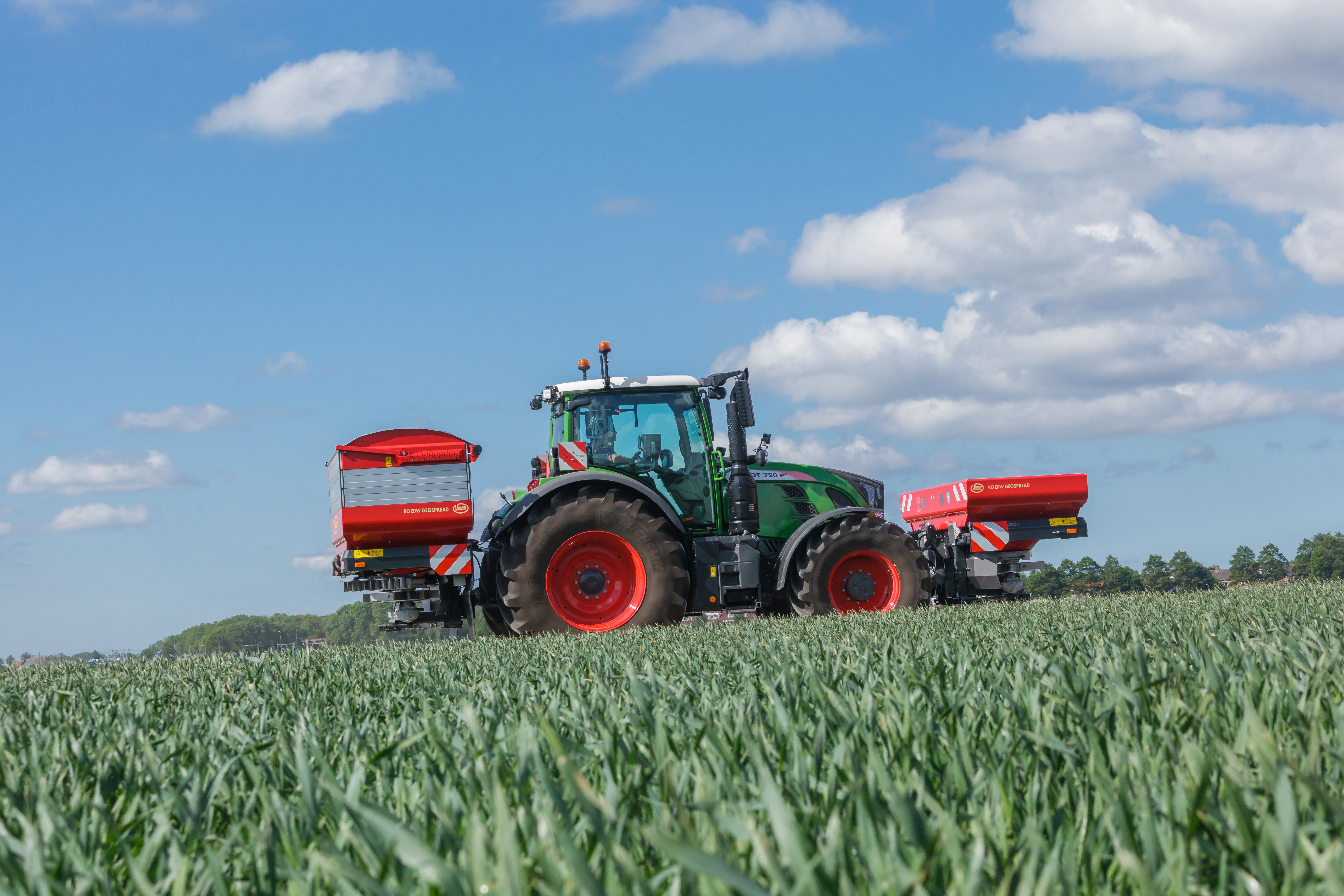 Increase accuracy
Instead of spreading a blend it is possible to apply two different fertilisers types with different physical properties, both with a correct setting to get a perfect nutrient accuracy and spreading pattern. As a result, there will be an increased yield and more efficient use of applied fertiliser.
Perfect weight balance
With a spreader in the rear and one in the front there is an increase in capacity and at the same time a perfect weight balance on the tractor. This means that there is less ground pressure, which results in less soil compaction. In case there is no PTO shaft available at the front of the tractor, the central hydraulic driveline on the GEOSPREAD spreaders can be used. The TrimFlow border spreading device can be added on the left and right hand side for spreading borders and headlands. 
Maximise productivity
The different GEOSPREAD models, with different hopper capacities, can be combined in the front and the rear, up to the total capacity of 6000 or 7000 litres.
On the ISOBUS terminal each disc spreader can be selected and the correct setting can easily be entered. Section control will automatically switch on and off sections on both spreaders to minimise overlap. With the Variable Rate Application on all the Vicon GEOSPREAD spreaders it is possible to automatically adjust the application rate separately from the front and rear spreader. For even more precision MULTIRATE applies multiple rates within a working width, independently from the front and rear spreader.
Intelligent spreading with the RO-M GEOSPREAD and RotaFlow system. Read more here --> Vicon RO-M GEOSPREAD
Get the perfect spreading result with intelligent spreading using RO-EDW GEOSPREAD --> Vicon RO-EDW GEOSPREAD
A high speed disc spreader, with a spreading width up to 45 metres. Learn more --> Vicon RO-XXL GEOSPREAD